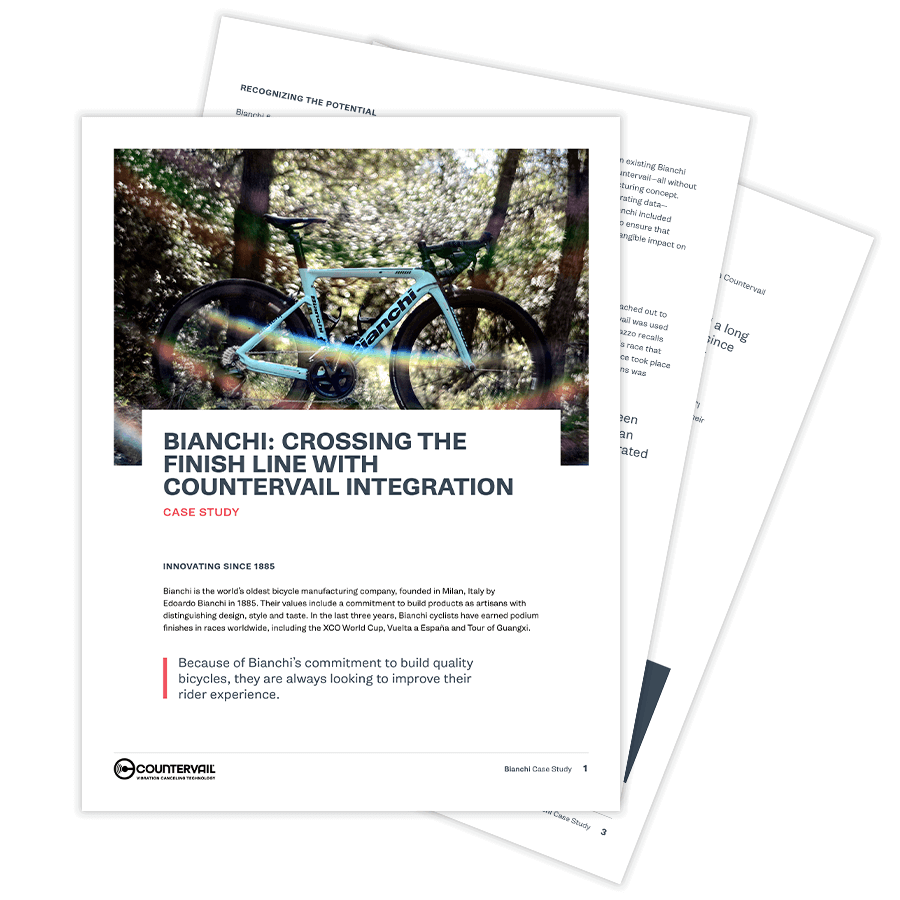 DOWNLOAD THIS CASE STUDY
This case study is also available as a free downloadable PDF.
Or, you can continue reading it below.
---
Innovating Since 1885

Bianchi is the world's oldest bicycle manufacturing company, founded in Milan, Italy by Edoardo Bianchi in 1885. Their values include a commitment to build products as artisans with distinguishing design, style and taste. In the last three years, Bianchi cyclists have earned podium finishes in races worldwide, including the XCO World Cup, Vuelta a España and Tour of Guangxi.
Because of Bianchi's commitment to build quality bicycles, they are always looking to improve their rider experience.
Recognizing the Potential

Bianchi first reached out to Countervail in August 2012 after one of their engineers, an avid skier, saw a demonstration of Countervail's vibration-cancelling technology on a Colorado skiing company's website. Realizing the potential application in Bianchi's bicycle frames, the engineer brought the page to the attention of Bianchi's CEO.
According to Tony Caiazzo, principal and engineer at Countervail, Bianchi had limited knowledge about vibration-damping technology prior to reaching out to Countervail. "Because of their unique understanding of bicycle design and performance, the Bianchi team was able to connect the dots from a video of a vibrating downhill ski to a bike responding to uneven roadways—and they wanted to know more".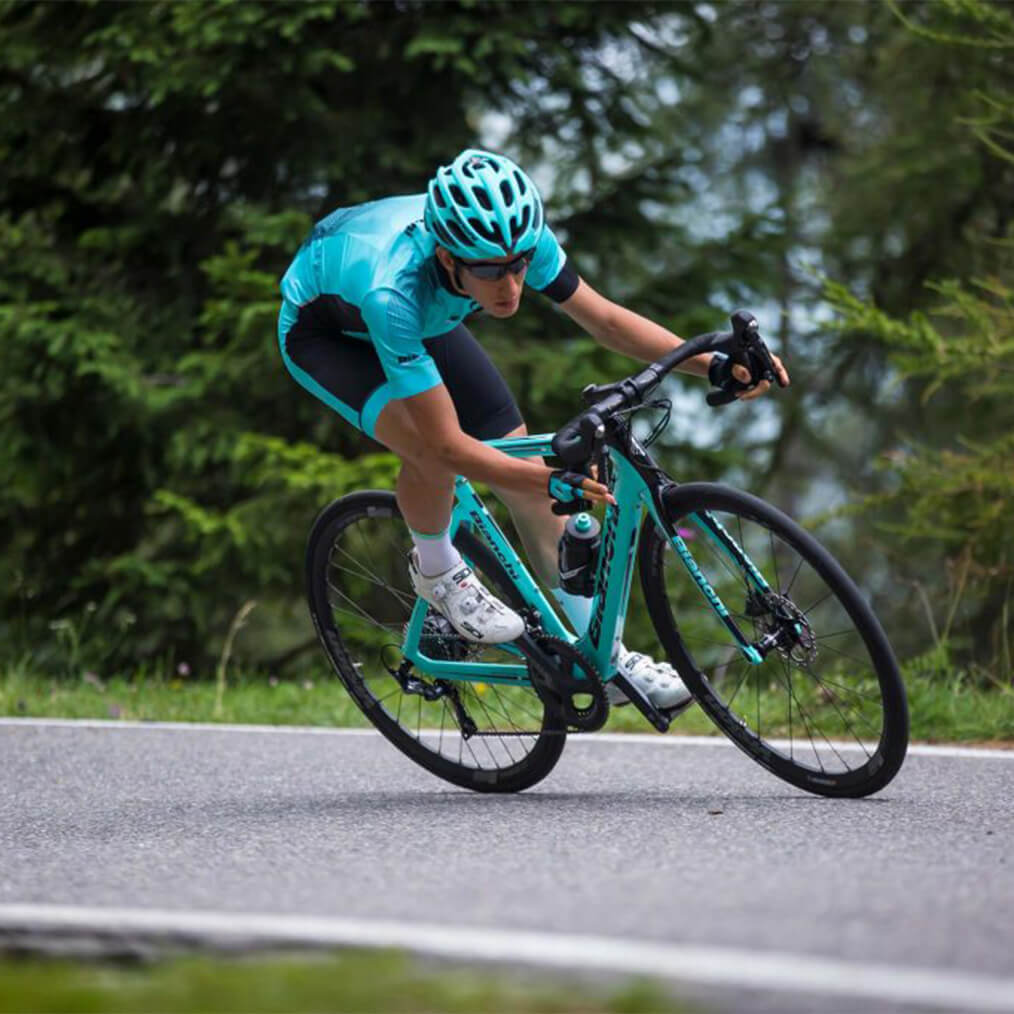 In their initial meeting, Bianchi came prepared with questions for Countervail. Was the material compatible with how they built their bicycle frames? Would it work, or was it just a marketing tactic? What about the business case—pricing, logistics, etc.? What can I do for my customers that nobody else can? The two teams came together to create a plan for producing a bicycle that would reduce vibrations and improve overall performance.

For initial trials, Countervail took an existing Bianchi bicycle frame and incorporated Countervail—all without needing to revise the initial manufacturing concept. Bianchi was very serious about generating data – the product development team at Bianchi included ex-professional cyclists who wanted to ensure that integrating Countervail would have a tangible impact on their products.
(image via BIANCHI.COM)
Off to the Races

Just eight months after Bianchi initially reached out to Countervail, the first bicycle with Countervail was used in the Paris-Roubaix race in April 2013. Caiazzo recalls it was important to produce a bicycle for this race that met expectations, since 75 percent of the race took place on cobblestone streets and reducing vibrations was a key concern.
Since the partnership between Countervail and Bianchi began in 2012, Bianchi has incorporated Countervail into all of their high-end road bikes used by professional riders in the Tour de France.
Bianchi provides what riders see as the highest-technology bicycles available, and having Countervail exclusively available in Bianchi bicycles is a draw to everyday riders.
Bianchi's Infinito-CV road bike was the first bike to incorporate Countervail, and since then, Bianchi has introduced it to a significant portion of their product line, including mountain bikes.
A Continued Partnership

Bianchi is very keen to be a technology leader, which is an important aspect in being a Countervail partner. With a strong engineering and development team and a long history, Bianchi has set out to be a technology leader since they were founded in 1885, and this made for a perfect partnership with Countervail.
Looking to the future, both companies hope to maximize the potential of their partnership. "I think they are an innovator in their field," Caiazzo says. "They're always looking to improve their products and we're happy to do what we can to help them get there."


---


Want to create your own Countervail success story? Contact a Countervail engineer today to learn more about how integrating Countervail into your production process can improve performance.